The conference Video History: Making Connections was held October 16-18, 1998 at Syracuse University in conjunction with the Common Ground Conference, sponsored by the New York State Alliance for Arts Education. Bringing together media makers active in the 70s with artists working today in new media and interactive technologies, the conference celebrated our history and established new partnerships with cultural and educational institutions across the country.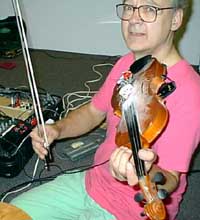 Over 250 individuals from around the country attended the conference, representing many of the major media institutions on the East Coast. All of the events were open to registrants of Common Ground, the conference of the New York State Alliance for Arts Education, in an effort to encourage active participation by public school educators from across the State.
Special events included: a reception hosted by the Everson the site of the first video program within a museum; a keynote address "The Success of the Failure of Video" by David Ross, Director of the San Francisco Museum of Modern Art; "Ausprobieren", a live and recorded multimedia performance by Peer Bode, Tony Conrad, Andrew Deutsch, Kevin and Jennifer McCoy, Pauline Oliveros and Steina Vasulka; and "ArtVideoDance", a party with live performance and installations.
Panels were held on a variety of topics such as "Writing About Video"; "Distribution and Audience"; "Teaching Video History"; "Cultural Context and Audiences"; "Arts Practice"; "Activist Media"; "Infrastructure"; and "The History of Magnetic Materials". On-going events included Extended Play, continuous screenings of early video by over 20 organizations, and an Open Screening for participants to share work. A Resource Room provided a large display of early analog and digital tools; books, magazines and ephemera from the early days of video; student work from around the world; and continuous viewing of "Pioneers of Electronic Art," a program curated by Woody Vasulka and Steina Vasulka for Ars Electronica, 1992.
For bios of presenters, organizers and performers, search the Video History Archive or browse bios in the People section.