Ralph Hocking founded the Experimental Television Center as a 501(c)(3) non-profit in 1971, an outgrowth of a media access program he established at Binghamton University in 1969. Fifty years later, the Center continues to provide support and services to the media arts community.
Mission
to encourage the creation of work using new electronic media technologies
to encourage an informed appreciation of media art
to help honor our independently created moving-image heritage by initiating projects and participating in partnerships which address the needs for research, education and preservation, and place independent works within a larger cultural context
Programs
The Center's extensive media arts collection of videotapes and DVDs is being archived and housed at the Rose Goldsen Archive of New Media under the sponsorship of the Division of Rare and Manuscript Collections at the Carl Kroch Library at Cornell University.
Experimental Television Center: 1969 – 2009 (5 DVD set with catalog), an anthology of video art works created through the Residency Program here. The set was curated and about 90 artists out of the several thousands who have participated in our program were selected. The collection was featured in 2011 at Anthology Film Archives. It was named top 100 DVDs for 2010 by LUX, the influential arts organization in London, UK. In 2011 the collection was named by LUX as one of 50 essential moving-image artists DVDs in publication. The collection is available through the well-known distributor of contemporary art Electronic Arts Intermix.
Location
For four decades the studio was located in Owego, a small village in the central Southern Tier of NYS. In 2021 the Experimental Television Center announced its relocation to Altanta, Georgia.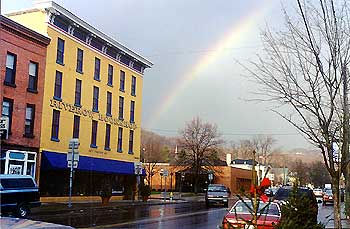 People
The Center is staffed by a small dedicated group of individuals.
Support
The Center's programs have been supported by the Electronic Media and Film Program at the New York State Council on the Arts; Daniel Langlois Foundation for Art, Science, and Technology; the Media Arts Program of the National Endowment for the Arts; mediaThe foundation; NYS Challenge Grant Program; The Andy Warhol Foundation for the Visual Arts; the New York Foundation for the Arts; the Media Action Grant Program of Media Alliance; by the Institute for Electronic Arts at Alfred University, the Everson Museum of Art, IMAP, BAVC, VidiPax; and by corporate support from Dave Jones Design and Black Hammer Productions and by the contributions of many individual artists.
Erik Gavriluk, Chief Executive Officer
Jeffrey Price, Chief Financial Officer
Mark Malamud, SVP Program Management

Dave Jones, Systems Consultant
Hank Rudolph, Technical Advisor

Ralph Hocking, Founder
Sherry Miller Hocking, Researcher & Archivist

Contact us at [email protected].