A list of sites which offer histories and chronologies devoted to media culture, systems and tools.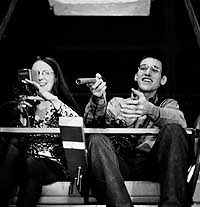 American Museum of the Moving Image
Cinematographica
Information on collecting early movie machines and material.
Cloud Computing Software and Data Storage History
Link courtesy of Katie at the Lyndhurst STEM Club for Girls.
The Computer Museum History Center
Daniel Langlois Foundation for Art, Science and Technology
Operates a Centre for Research and Documentation which seeks to document history, artworks and practices associated with electronic, digital media arts and make this information available on-line.
Davidson's Files
Early video history maintained by Davidson Gigliotti.
Digital Moments
Starting in 1987, Menuez spent ten years documenting the development of new technology with unprecedented access to almost every major technology company, covering digital pioneers and key players such as Steve Jobs at NeXT, John Warnock at Adobe Systems, Bill Joy at Sun Microsystems, and John Doerr at Kleiner Perkins.
Experiments in Art and Technology (E.A.T.)
Document collection is made up of more than 350 reports, catalogues, bulletins and copies of articles published by E.A.T., mainly between 1965 and 1980. The mission of E.A.T., founded in 1966 by engineers Billy Klüver and Fred Waldhauer and artists Robert Rauschenberg and Robert Whitman, was to act as an intermediary and to promote interaction between the arts and technology.
Flicker
Independent film site with good early film links.
FOOTAGE
Archival and news footage databases.
Fred Pfost: My Ten Years at Ampex and the Development of the Video Recorder
History Index
A filter site for history topics.
History of Cinematography
A sweeping view of the growth of cinema, from the cave men on.
History of Computing
A collection of materials related to the history of computing as collected and written by J. A. N. Lee, until 1995 Editor-in-Chief of the IEEE Annals of the History of Computing.
History of Visual Media
Developed by Thomas Weynants, the site has a section on pre-cinema, with optical toys, magic latern and phenakistiscope.
Hobbes' Internet Timeline
Timeline 1957 - present, charts, links.
Idealine
A map of net artworks
International Association for Media and History
An organization of film and television broadcasters, scholars, and others "who are passionately concerned about film, radio, television and their relations to history." IAMH publishes "The Historical Journal of Film, Radio, and Television", holds a conference, and maintains links to related web sites.
International Institute of Social History in the Netherlands
This is a guide to the collection of videotapes and related material collected at the Next 5 Minutes conferences on tactical media.
Media History Project
Promoting the study of media history from petroglyphs to pixels.
The Museum of Jurassic Technology
Artist/Founder David Wilson. Natural history items share space with artifacts of surreal technology.
Precursors to Cinema
This site, hosted by The Projection Box, is a re-creation of the Museum of Moving Image in London, now defunct.
Radical Software
Complete publications online; indexed.
Radio History Society
The Radio History Society (RHS) is dedicated to the preservation of radio and television history.
Recording Technology History
Timelines of audio and video history.
Screening the Past
Publishes in the following areas: the history of photography, film, television and multimedia; the representation of history on/in these media; and the role of these media in social history.
Techno-Cultural Media Resources
Extensive links to media history and culture.
Timeline of Computer Graphics and Animation
WGBH New Television Workshop Archives
The New Television Workshop at WGBH supported the creation and broadcast of experimental works by artists from 1974 to 1993. The on-line archives contain clips from programs, as well as historical information.
Woody and Steina Vasulka Archive
Contains extensive printed material, technical drawings and manuscripts, final shooting scripts, videotapes, correspondence and photographic material. Put together by the Vasulkas, founders of The Kitchen, an alternative arts center in New York, this collection covers the pivotal era - from the late sixties up to today - during which these two pioneers experimented with electronic media, electronic instruments, analog computers, early digital synthesizers and other audio and video processors.