The Video History Project has been a collaborative effort among hundreds of people since 1994. We extend many thanks to all the organizations and individuals who have contributed so much to this on-going effort. The project was conceived and is directed by Sherry Miller Hocking.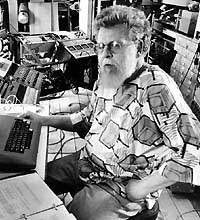 Special thanks to Ralph Hocking, for his patience, and to his grandfather William Joseph Hocking, who may have inspired Ralph's love of machines.
Special thanks, also, to Kathy High and Mona Jimenez who collaborated with Sherry Miller Hocking on the book The Emergence of Video Processing Tools: Television Becoming Unglued (Intellect Press, 2014) One of our many inspirations was the Video History Project.
Special thanks to Matthew Schlanger for redesigning and rebuilding this site in Drupal and for migrating the databases. Thanks to David Jones for his willingness, his curiosity and his obsessions. He put together the original vhp site web database.
And to Arthur Tsuchiya who many years ago spoke of the power of the Web for the arts
Support, Services and Contributions
Afterimage at Visual Studies Workshop
Andy Warhol Foundation for the Visual Arts, with thanks to Pamela Clapp
Blackhammer
Dave Jones Design
Daniel Langlois Foundation
Electronic Arts Intermix
Everson Museum of Art, with thanks to Sandra Tropp
Experimental Television Center
Institute for Electronic Arts at Alfred University
Media Alliance and the Media Action Grant Program
New York State Council on the Arts, with thanks to Debby Silverfine, Karen Helmerson and Claude Meyers
New York Foundation for the Arts Technology Planning Grant Program, with thanks to Ted Berger
New York Foundation for the Arts, Education and Information, with thanks to Amy Hufnagel
New York State Alliance for Arts Education
Statewide Challenge Grant Program of the New York State Council on the Arts
Mary Ross
Video DataBank
VidiPax, with thanks to Jim Lindner
Video History:Making Connections
Conference programming committee consisted of 30 individuals and representatives of organizations around the State including Everson Museum of Art, Hallwalls, Institute for Electronic Arts at Alfred University, Syracuse University, Visual Studies Workshop, Peer Bode, Andrew Deutsch, Carl Geiger, Pamela Hawkins, Amy Hufnagel, Barbara Lattanzi, Phill Niblock, Joseph Scheer, Tom Sherman, Marion Wilson
Conference Support
Peter Artin, Peer Bode, Lara Davis, Carl Geiger, Pamela Susan Hawkins, Kathy High, Jim Lindner, Tara Mateik, Dara Myers-Kingsley, Lynne Pidel, Lara O'Dell, Hank Rudolph and Jessie Shiffrin.
All the students of Alfred University, Atlanta College of Art, Mason Gross School at Rutgers University, Rensselaer Polytechnic Institute, Syracuse University, and the University of Buffalo
All the organizations which contributed programming for the videotape exhibition programs
All the many volunteers
Web
Christa Erickson, Mona Jimenez, David Jones, Beth Kanter, Mark Klingensmith, Andy Mirkis, Matthew Schlanger
Advisors and Researchers
Benton Bainbridge, Greg Bowman, Deirdre Boyle, Debora Brown, Julia Dzwonkowski, Molly Finnan, Pamela Susan Hawkins, Chris Hill, Eric Jones, Steve Beuret, Barbara Lattanzi, Hugh McCarney, Austin Nichols, Carolyn Tennant, Sara Thearle, Cynthia Young, and the Visual Studies Workshop Summer Institute participants in A Natural History of Video Art who worked from 1992 until 1998 on various early versions of these ideas
The Video History Project owes thanks to our friends, old and new, who work at the many places dedicated to moving image and sound art and who have taken the time to respond to our inquiries.
Harald Bode, Peter Bradley, Rich Brewster, Russell Connor, Ann Curran, Paul Davis, Jamie Dearing, Tom DeWitt, Van Dousmanis, Kenneth Dominick, Robert Doyle, Bill Etra, Carl Geiger, John Giancola, Jack Goldman, Barbara Haspiel, Jean Haynes, Sara Hornbacher, Shigeko Kubota, Barbara London, Nathan Lyons, Ken Marsh, Mary McArthur, John Minkowsky, Angel Nunez, Gerry O'Grady, Nam June Paik, Daniel Reeves, David Ross, Matt Schlanger, Carlota Schoolman, Harland Snodgrass, Vibeke Sorensen, Marita Sturken, Arthur Tsuchiya, Parry Teasdale, Steina and Woody Vasulka, Ann-Sargent Wooster, Walter Wright, Jud Yalkut, Patty Zimmermann, Neil Zusman and many, many others.
Contact us at [email protected]