The media field began its evolution in the decade of the 1960s within a rich cultural mix of factors including the introduction of portable videotape technology, the growth of public support for projects in the arts and humanities, and the radical counter-cultural movement. New York State hosted some of the earliest media activity in the United States. There were over thirty media organizations active in the upstate region alone during the period 1968 -1980.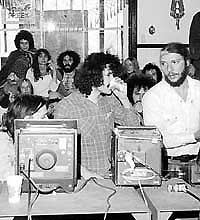 The groups operated with a variety of organizational strategies, from individual to collective. Media makers explored video as an art medium and as a tool for social and cultural change, producing documentaries, narratives, conceptual, and image-processed work presented on cable and television, in regional and community venues and in art contexts. For profiles of organizations active during the evolution of the field, browse the groups below. 
Groups - browse groups here. This is a listing of texts about groups taken from the biblio database.
Links to organizations - lists groups which provide informational and advocacy services, exhibition opportunities, access to new technologies, funding or offer multi-focus programs.
NYS Groups Map - for a visual of early New York State groups.