| | |
| --- | --- |
| Publication Type | Miscellaneous |
| Source | (undated) |
| Keywords | tools |
Full Text:
Sony DVK-2400/VCK 2400 Battery Operated Videocorder/Camera Ensemble
In 1965 Sony introduced the CV ᄑ" skip field system
Sony Videocorder Educational Price Schedule for 2000 Series (E/P/S 11/67) $1250.00
From Product Literature
A new dimension in sight and sound recording has been achieved with a miniaturized Videocorder, now able to be carried over your shoulder and a solid state TV Camera that is hand-held, trigger-ready to shoot "live" action, indoors or outdoors.
There are no limitations with your portable Videocorder and Camera. And, this is no "adaptation" of standard models! The DVK-2400 Battery Operated Videocorder uses the ᄑ"wide magnetic video tape, running at 7 1/2 ips . . . the same used with the latest Videocorder models. The tape you take on your DVK-2400 model is playable immediately, or at a later date on any Sony Videocorder, the most popular video tape recording system available today,
The Battery Operated Videocorder, in a comfortable, compact shoulder-pack weighs a mere 11 pounds! It goes where you go and is completely solid state. There are no wires . . . no cables ... no converters ... no limitations as to where and when you can record sight and sound.
The Hand-Held TV Camera is simple to operate. A dynamic microphone mounted on top of the camera picks up your audio . . a built-in 1-inch TV screen Viewfinder helps frame your picture and shows you exactly what is being taped. There is a remote-control trigger on the camera handle that starts you recording, immediately! One simple cable connection between camera and Videocorder and your system is complete, and ready to operate. The lens on your TV Camera is Sony's 16-54mm, F-2, C-mount, Zoom.
The potential and applications of the DVK-2400/VCK-2400 Videocorder and Camera Ensemble are limitless. Here is the Videocorder that goes anywhere you go!
Sony Battery-Operated Videocorder gives you features like theseナ
Complete Transportability - both TV Camera and Videocorder are solid state, battery operated. (Adaptable to AC also.)
Simple Operation - one-touch start/ stop and fully Automatic Video Level and Audio Level Controls,
Built-in TV Screen Viewfinder - shows you exactly what you are taping.
Pistol-Grip Handle on TV Camera - easy-to-use with remote-control trigger action,
7 1/2 ips Tape Speed - you get up to 20 minutes of recording time on a 5" reel. Tape is replayable on any Sony Videocorder.
Batteries - operational for a full hour's recording and are easily rechargeable.
Complete Line of AccessoriesラZoom lens, Battery Charger, Dynamic Micro-phone, Carrying Case ... all come with the ensemble.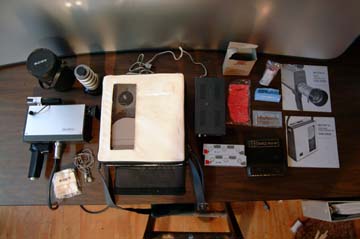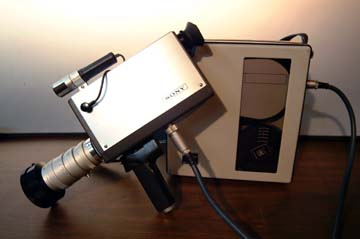 Portable Videocorder DV-2400 Owner's Instruction Manual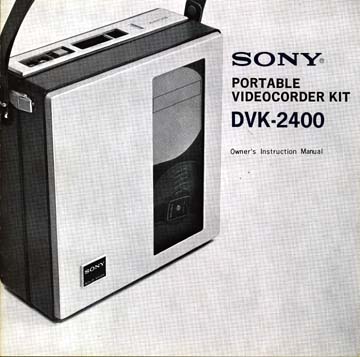 Video recording system: Slant-track scanning
Recording signal: 2:1 interlace
Recording signal:
2:1 interlaced composite video signal based on American TV standards (supplied through the video camera DVC-2400)
Recording time: 20 minutes continuously, using V-30D tape (850ft) ~
Tape speed: 7 ᄑ ips (inch per second)
Tape width: ᄑ"
Video modulation system: Frequency modulation
Resolution: Approximately 220 lines*
Video signal-to-noise ratio Greater than 40 db*
Video input 1.0V (peak to peak), sync negative, 50 ohms, at Pin 1 of the camera cable connector. (Ground return Pin 2.)
Audio input: 65 db, 600 ohms, at Pin 8 of the camera cable connector. (Ground return Pin 7.)
Audio frequency range: 100 - 8000 Hz*
Audio signal-to-noise ratio Greater than 38 db*
Microphone jack: Mini jack, input impedance 600 ohms
Earphone jack: Mini jack, output impedance 100 K ohms
Power requirements:DC 12V, 10.5W (without connecting DVC-2400)
Semiconductors: 41 transistors, 21 diodes
Dimensions : 4 7/8" (h) x 11 5/16" (d) x 11 ᄐ" (w)
Weight: 10 lbs. 13 oz (without batteries).
Portable Videocorder Kit DVK-2400
Portable Videocorder DV-2400
Battery Charger BC-2400
Rechargeable batteries Centralab RP-626x2
Reel RH-5V
Earphone CE-3
Head Cleaner tip
Cleaning fluid
Splicing tape
Polishing cloth
*Playback on a CV-2000 Series Videocorder.
Hz (hertz): cycles per second
Design and specifications subject to change without notice.
 
Portable Sony VCK-2400 Video Camera Kit Owner's Instruction Manual
Vidicon tube: 2/3" Separate mesh vidicon
Transistors: 40
Diodes: 21
Scanning system: 2:1 interlace
Horizontal and Vertical synchronizing signals supplied by the DV-2400 Videocorder.
(To use the camera with the SONY CV-2000 Series Videocorder the CMA-1 Adaptor is required).
Horizontal resolution: more than 400 lines (camera alone)
Horizontal frequency: 15.75 kHz
Vertical frequency: 60 Hz
Signal-to-noise ratio: greater than 40 db
Video output: 1 V p-p Composite Video signal (at load impedance 50 ohms)
Automatic-sensitivity control range: 300 lux to 100,000 lux (with F 2 lens)
Lens: Zoom lens, f 16ラ64 mm, F 2, C mount
Viewfinder: (built-in electronic viewfinder) 1" picture tube (measured diagonally)
Microphone input jack: Mini jack
Power requirements: DC 12V supplied by the DV-2400 (with a CV-2000 Series Videocorder, power is supplied through the Portable Camera Adaptor CMA-1)
Dimensions: 2 13/16 (w) x 5 (h) x 15-1/16 (d)" (with supplied zoom lens)
Weight: 5 lbs. 9 oz. (with supplied zoom lens, grip, microphone)
Microphone: Unidirectional, Impedance 250 ohms
Video Camera Kit VCK-2400 includes:
Video Camera DVC-2400
Television Zoom Lens VCL-16
Microphone F-45A Microphone extension cord
Camera grip
Camera cable CCJ-1
Wind screen
Polishing cloth
Shoulder strap
TRIPOD
Provides a stationary mount for the camera.
MONOPOD VCT.l, VCT.2
Provides a handy steady-rest for the camera when complete mobility must be retained. VCT-1 is a telescoping pod. VCT-2 is a telescoping type and has a belt for rest.
CAMERA ADAPTOR CMA-1
Permits the DVC-2400 camera to be used with any SONY Series CV-2000 Videocorder
CAMERA EXTENSION CABLES
CCJ-1 (5 ft.)
CCJ-5 (16 ft )
CCJ-10 (33 ft.)
MICROPHONE EXTENSION CORDS
EC-10M(33ft)
EC-25M(82ft)
Hz (hertz): cycles per second
Design and specifications subject to change without notice.