Publication Type:
Miscellaneous
Source:
(undated)
Keywords:
tools
Full Text:
EIAJ black and white 1/2" portable recorder. It featured still frame capability and used four heads. The cassettes could hold 30 or 60 minutes of tape in the original version and 120 minutes in V-Cord II format. Using the battery with a VC 500 camera, you could record for about 45 minutes. The V Cord format was introduced in 1972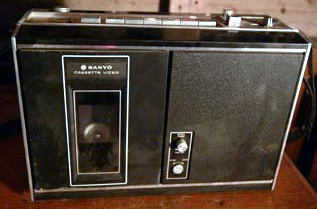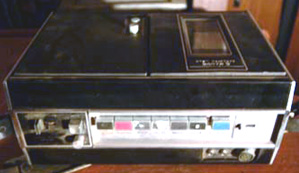 From the Operating Instructions Manual
Contents
Features
Controls & Functions
Important Instructions
The Video Cassette
Loading the Cassette
Power Sources
Video-recording With the VC 500 Camera
Playback thru VC500 View finder
Recording TV Programs
Playing Recorded Tapes
Adjusting Video Reproduction
Erasing Sound and Video Tracks
Sound Dubbing
Cleaning and Maintenance
Recharging Battery Pack
Built-in Safety Features
Trouble Shooting
Notes
Features
1. World's first portable cassette VTR "Cassette" video tapes can be loaded and unloaded quickly. Light in weight - only 15 lbs.- and compact in size, the VTC7100 is designed to be portable. It is for use anywhere, any time.
2. Reproduces clear, slow, and stop-motion pictures. The VTC 7100 incorporates in its small size the most advanced electronics technology and circuitry. In performance, it equals very large video-tape machines. Equipped with a rotary four-head system, the picture it reproduces is clear at normal and low tape speeds, or when the tape is stopped. Slow-motion and still framing (1/60 second per frame) is easy with finger-tip controls.
3. Completely automatic image and sound-recording systems. No audio and video adjustments are necessary for audio-visual recording. Sanyo's automatic level control systems make perfect recordings.
4. 3-way power. This cassette VTR can be operated on any of three different power modes.....household AC, automobile DC battery power, or built-in (rechargeable) battery pack.