Publication Type:
Miscellaneous
Source:
(undated)
Keywords:
tools
Full Text:
SONY 8650
        From an Operating Instructions manual for the AV-8650.
 
    Features
    Specifications
    Panel facilities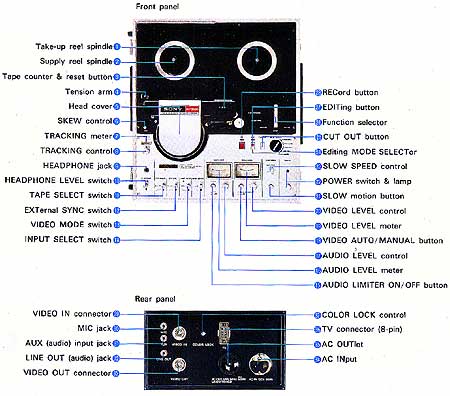 The Sony Videocorder model AV-8650 is a highly-advanced color video tape recorder designed especially for use with Sony video cameras and monitors, and will record video signals that conform to EIA monochrome or NTSC color standards. The AV-8650 provides color/monochrome video and audio recording and playback. Full editing capability simplifies professional tape production.
FEATURES
Tapes are fully interchangeable so that a tape recorded on any Sony AV-Series Videocorder can be played back on the AV-8650. However high density tapes recorded on the AV-8650 are only interchangeable on other high density tape machines such as other AV-8650 Videocorders.
Both regular tape and high density tape can be used. When using high density tape, particularly in editing, the high quality picture can be obtained. The TAPE SELECT switch adapts the Videocorder to the type of tape.
Video and audio signals can be inserted into or assembled onto a prerecorded tape. The rotary erase head and vertical
interval switcher assures smooth insertion and assembly
A converted sub-carrier direct recording system and dropout compensator are employed.
External sync may be checked during playback without dis12 connecting the signal source.
The capstan servo system monitors and controls the tape speed, assuring precise editing and a stable picture with minimum fitter.
Video recording level can be controlled automatically or manually by the setting of the VIDEO AUTO/MANUAL
button. Audio LIMITER for recording is selected with the AUDIO LIMITER ON/OFF button.
A still playback picture can be obtained by setting the Function selector to PAUSE/STILL. Slow motion tape speed is adjustable by means of the SLOW SPEED control.
Tracking and skew conditions are manually controlled in the playback mode. A level meter indicates tracking condition.
SPECIFICATIONS
General:
Power requirement AC 120V ± 10%,60 Hz ±0.5%
Power consumption 95W
Ambient temperature 32°F-104°F
Video recording standards Monochrome, EIA standard
Color, NTSC standard
Video recording system Rotary 2-head helical-scan system, FM recording
Tape pattern EIA Japan type-1
Tape speed 71/2 ips
Recording time more than 60 min. with Sony V-32 (regular) or V-72 (high density)
Rewind and fast forward time within 6 min. with Sony V-32 or V-72
Dimensions 171/2" (w) x 10 3/4" (h) x 18 5/16" (d)
Weight 551b
Video signal
Input Composite, sync negative 0.5-2.0 Vp-p, 75 ohms, unbalanced
Output Composite, sync negative 1 .0 Vp-p, 75 ohms, unbalanced
Resolution Monochrome
regular tape, more than 300 lines
high density tape, more than 350 lines
Color
regular tape, more than 240 lines
high density tape, more than 250 lines
Signal-to-noise ratio regular tape, better than 40 dB
high density tape, better than 43 dB
Audio signal
Input MIC : -60 dB, LOW impedance, unbalanced
AUX: 0 dB, HIGH impedance, unbalanced
TV: -20 dB, HIGH impedance, unbalanced
Output LINE: 0 dB, less than 2 k ohms, unbalanced
TV: 0 dB, less than 2k ohms, unbalanced
Headphone: 8 ohms
Frequency response regular tape, 80--10,000
Hz high density tape, 80-12,000 Hz
Signal-to-noise ratio better than 40 dB
 
Special functions
Slow Playback speed is continuously variable from 1/16 to 1/5 of normal speed
Tracking Adjustable
Skew Adjustable
Editing Assemble : video and audio (simultaneously)
Insert : video and audio, video only, audio only (independently selectable)
Accessories supplied
Reel, RH-7V
Head cleaner set
AC power cord
Lubricating oil
Sony video tape V-30
Splicing tape
Polishing cloth
Design and specifications subject to change without notice.
 
Front panel facilities
3. Tape counter & reset button
Tape counter indicates the amount of tape used. The figures can be reset to [000] by pushing the reset button.
6. SKEW control
Controls the tape tension. Adjust this control only if the upper part of the picture is distorted in the playback mode. When the RECord button is depressed, the SKEW control knob automatically returns to its center position.
7. TRACKING meter
Indicates tracking condition. Adjust the TRACKING control to obtain maximum deflection on the meter.
8. TRACKING control
Regulates video-head tracking. If the playback picture is distorted due to deformation of the tape, turn the knob to achieve optimum picture stability while watching the TRACKING meter. This knob does not function in the record mode.
9. HEADPHONE jack
Use headphones with an impedance of 8 ohms.
10. HEADPHONE LEVEL switch
Selects one of two sound levels for the headphones.
11. TAPE SELECT switch
The switch is set to REGULAR or to HIGH DENSITY, according to the type of the tape used.
12. EXTernal SYNC switch
In the NORMAL position, the playback video signal is locked to the external signal(sync) applied to the VIDEO IN connector, and in the DEFEAT position to the internal sync signal.
13. VIDEO MODE switch
Set the switch to COLOR for a color recording or to B/W for a monochrome recording. This switch is used in both the record and the playback mode.
14.INPUT SELECT switch
Selects video input signals applied to the VIDEO IN connector (LINE position) or TV connector (TV position).
15. AUDIO LIMITER ON/OFF button
Selects LIMITER recording or manual recording system. The action of the LIMITER recording system is the same as manual recording with normal signal levels. However, when a high audio input signal is introduced, this system limits the peak level and minimizes the occurence of unnecessary distortion.
16.AUDIO LEVEL meter
Indicates the audio recording level during recording or playback audio signal level in the playback mode.
17. AUDIO LEVEL control
To adjust the audio recording level manually, turn the control while watching the AUDIO LEVEL meter. This control is. for record only, and does not adjust the playback signal.
18. VIDEO AUTO/ MANUAL button
Selects automatic or manual control of video recording level.
19. VIDEO LEVEL meter
Indicates the video recording level during recording and the playback video signal level during playback.
20. VIDEO LEVEL control
To adjust the video recording level manually, turn this knob while watching the VIDEO LEVEL meter. This knob has no control over the playback signal.
21. 23. SLOW motion button & SLOW SPEED control
To slow the playback picture, push the SLOW motion button and turn the SLOW SPEED control to set the desired speed.
24. Editing MODE SELECTor When editing, set the position of this selector for assembly or according to the desired insert mode.
ASSEMBLE... for assembly of video and audio signals onto the end of a prerecorded tape
INSERT VIDEO/AUDIO... for simultaneous insertion of video and audio signals in the midst of a prerecorded tape
INSERT VIDEO ONLY.. .for insertion of video signal only
INSERT AUDIO ONLY... for insertion of audio signal only
25. CUT OUT button
At the end of an insertion, press this button.
26. Function selector
FAST FORWARD... advances the tape quickly.
PAUSE/STILL... stops the tape so that a still picture can be obtained in the playback and record mode.
FORWARD... moves the tape at normal speed for recording, playing back and editing.
STOP... stops tape motion.
REWIND... rewinds the tape.
27. EDITing button
Permits assembly or insertion of new material into a prerecorded tape.
28. RECord button
To place the Videocorder in the E-to-E, record or editing mode, press the RECord button.
 
Rear panel facilities
29. VIDEO IN connector
Accepts a video camera, video monitor, video tape recorder or other external video source.
30. MIC jack
Use this jack to connect a lowimpedance microphone.
31. AUX(audio) input jack
Use this jack to accept an audio signal source such as a phonograph, tuner, tape recorder, or other microphone/amplifier system, for recording purposes.
32. LINE OUT(audio) jack
Supplies the playback audio signal to other equipments.
33. VIDEO OUT connector
Feeds video to a video monitor or video tape recorder with 75-ohm impedance.
34. AC INput
Connect the power cord to any convenient ac outlet, 120V, 60 Hz.
35. AC OUTIet(unswitched)
Supplies ac power(up to 500W) to other equipment.
36. TV connector(8-pin)
Accepts any Sony CVM-Series video receiver monitor. All video and audio interconnections to the receiver monitor are made at this connector.
37. COLOR LOCK control
A behind the panel screwdriver control to provide playback color lock adjustment.
Tool Name:
Sony AV-8650 1/2" open reel editing deck