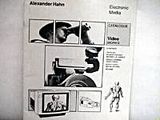 The audio system continues to be expanded. With NYSCA support, Megan Roberts and Ray Ghirardo design a digital interface to allow a computer to control multiple audio and video playback sources in three dimensional arrays.
Artists in Residence include Benton Bainbridge, Kevin Cook, Francis James, Bianca Bob Miller and Eva Schicker.
Presentation Funds assists Hallwalls, Downtown Community TV Center, the Brooklyn Museum and the Asian American Video Festival.
Finishing Funds recipients include Maria Beatty, Barbara Hammer and John Knecht, selected by panelists Raymond Ghirardo and Arthur Tsuchiya