Publication Type:
Miscellaneous
Source:
(undated)
Keywords:
tools
Full Text: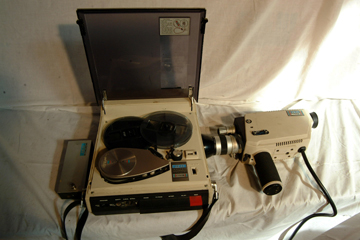 Technical Data Sheet for AKAI VT150 Color Video Tape Recording System
Lightweight VTR features Automatic Editing Control. Stop Motion (with jeeped monitor), Sound Dubbing, Two-Head Helical Scan recording format, Multi-purpose camera features Servo-Controlled Automatic Iris, Wide-Angle to Telephoto Lens with 6-to-1 Zoom, 300-Line Resolution. Complete system weighs just 22 pounds, including batteries. Records and plays back 26 minutes per reel, but battery-powered system will record up to 40 minutes without recharging. Full-color ᄐ" tape replays on any EIAJ TV monitor or, with RF converter accessory, on any home television set!
Color Camera Unit Technical Data
Color System: NTSC type frequency multiplex system, fully locked chroma
Vidicon Tube:
Luminance channel: 2/3" electrostatic focusing, electromagnetic deflection type vidicon;
Chrominance channel: Akai color dissector tube.
View Finder: 1.5" type built-in electronic viewfinder
Lens: 6X (12.5 to 75mm) zoom lens, F2 to closed
Aperture: Automatic and manual iris systems
Scanning System: 525 lines, 2:1 interlace
Synchronizing System:
External synchronization system from CCU-150. (May be externally driven)
Horizontal Resoultion: More then 300 lines
Signal to Noise Ratio: Better than 40dB
White Balance: White Balance Switch
Ideal Subject Lighting Density:
140 foot candles (minimum Subject Lighting Density: 60 foot candles using a 500W Halogen type lamp at 2m)
Automatic Sensitivity Control Range:
60 to 2000 foot candles
(ND-4 standard accessory: 240 to 8000;
ND-8 optional accessory: 480 to 16000)
Microphone: 600 ohms uni-directional microphone
Power Requirements: DC 12V supplied from CCU-150
Dimensions: 3.5 x 9.3 x 13.2" including lens hood and grip handle
Weight: 5.76 pounds including eye-hood assembly
CCU-150
Video Signal Output: NTSC Type Color TV Signal 1 Vp-p 75 ohms
Audio Signal Output: 0.1 VRMS
RF Converter Output:
Video: NTSC type 1 Vp-p 75 ohms
Audio: 1 VRMS
Power Requirements: 120V AC, 60 Hz
Power Consumption: 50W
Dimensions: 10.2" x 4" x 9.1"
Weight: 8 lbs.
VT-150 Color VTR Unit
Recording Format: Two Head Helical Scan
Video Signal: NTSC Type Color
Tape Speed: 10 inches per second
Recording Time: 26 minutes using 5" reel
Tape Width: ᄐ"
Resolution: More than 230 lines
Video Signal to Noise Ratio: Better than 40dB
Audio Frequency Range: 100 to 10000 Hz
Audio Signal to Noise Ratio: Better than 45dB
Video Input: 1 Volt Peak to Peak
Audio Input: 0.1 Volt
Video Output: 1 Volt Peak to Peak
Audio Output: 1 Volt
Dimensions: 10.45"W x 5.6 H x 14.2 D
Weight: 16.4 lbs (with batteries)
Battery Using Time: 40 minutes
Power Consumption: 32 Watts